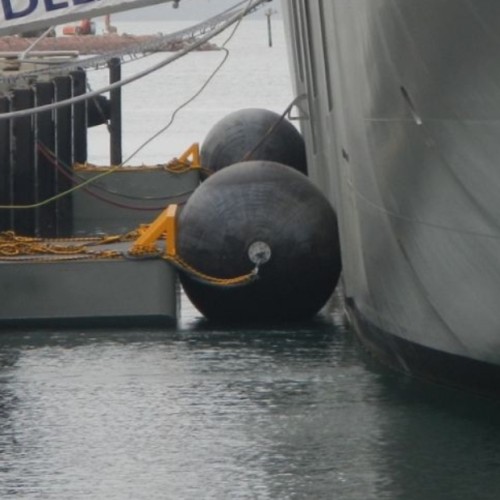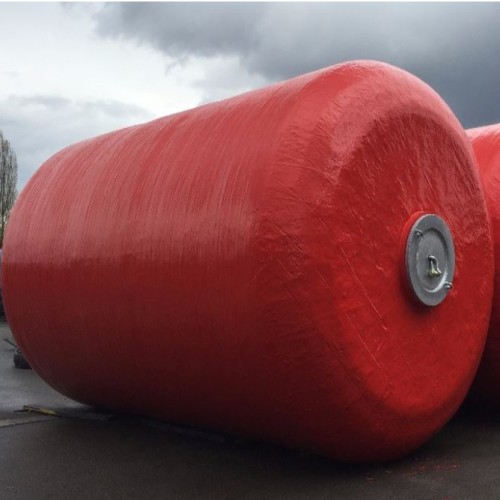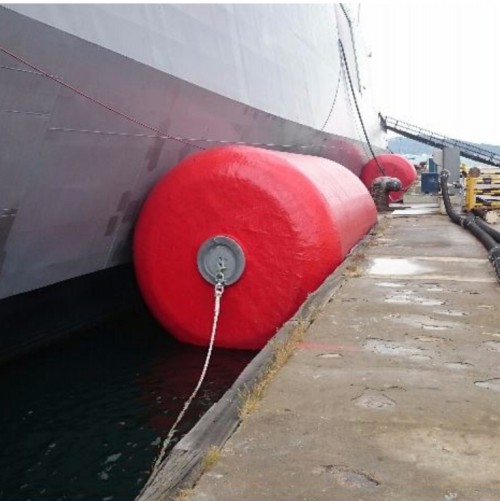 Foam Filled Fender Bumper with High Performance
Item specifics
Material

closed cell EVA foam
Color

white/grey/blue/yellow/red......
Diameter

0.2-4 meters
Length

0.5-6 meters
Coating

polyurethane/polyurea
Certificate

CCS.ABS.LRS.BV.GL.DNV.NK
Application

STS, STD
Brand

Jerryborg Foam Fender
Description
Foam Filled Fender Bumper with High Performance
What is Foam Filled Fender ?
Foam filled fender is a floating type fender using lightweight and high elasticity foam as a buffer medium to absorb impact energy. It's composed of a closed cell EVA core and an outer polyurethane skin.

As an alternative to the pneumatic rubber fender, foam filled fender is extremely durable. Moreover, without air inside, there's no risk of bursting or sinking. And it's widely used in harbour, offshore platform or ship to ship operations.Jerryborg's foam filled fenders are available in black and other customerized colors upon customer's request.

Foam Filled Fender Features
1. Various optional colors are available, standard color is black and orange

2. Lightweight and portable
3. Excellent floating performance and not affected by tides
4. Smaller skin damages can easily be repaired on site
5. Low hull pressure and non-marking Polyurethane/polyurea(SPUA) skin
6. Good angular performance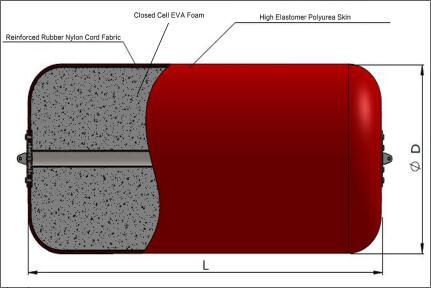 1. 100% closed cell
EVA
foam
Closed cell polyethylene foam performs well in high durability and sturdiness even at extremely low temperatures.
2.
Reinforced rubber nylon cord fabric
Nylon and tire cord reinforcement is strong enough to protect the foam inside.
3. High elastomer polyurea skin

Outer wear surface is the non-marking polyurethane, which is resistant to acid and alkali, besides it has higher load bearing capacity and impact resistance.

Foam Filled Fender Specification
Item

Size(D×L)mm

D

(mm)

L

(mm)

Compression Value60%

Reference Weight

(kg)

Counter Force

(KN)

Energy Absorption

(KJ)

Ø 500×1000L

500

1000

71

8

34

Ø 600×1000L

600

1000

86

12

45

Ø 700×1500L

700

1500

161

27

101

Ø 1000×1500L

1000

1500

205

49

206

Ø 1000×2000L

1000

2000

274

64

275

Ø 1200×2000L

1200

2000

337

93

405

Ø 1200×2400L

1200

2400

390

110

475

Ø 1350×2500L

1350

2500

463

145

626

Ø 1500×3000L

1500

3000

624

216

927

Ø 1700×3000L

1700

3000

696

273

1191

Ø 2000×3500L

2000

3500

990

456

1923

Ø 2000×4000L

2000

4000

1110

505

2298

Ø 2200×4500L

2200

4500

1396

679

2992

Ø 2500×4000L

2500

4000

1386

781

3434

Ø 2500×5000L

2500

5000

1750

985

4272

Ø 3000×5000L

3000

5000

2050

1410

6411

Ø 3000×6000L

3000

6000

2460

1695

7293

Ø 3300×6500L

3300

6500

2950

2245

8335

Ø 4500×9000L

4500

9000

19650

7860

21460